FAQs
What is the Haverford Music Festival?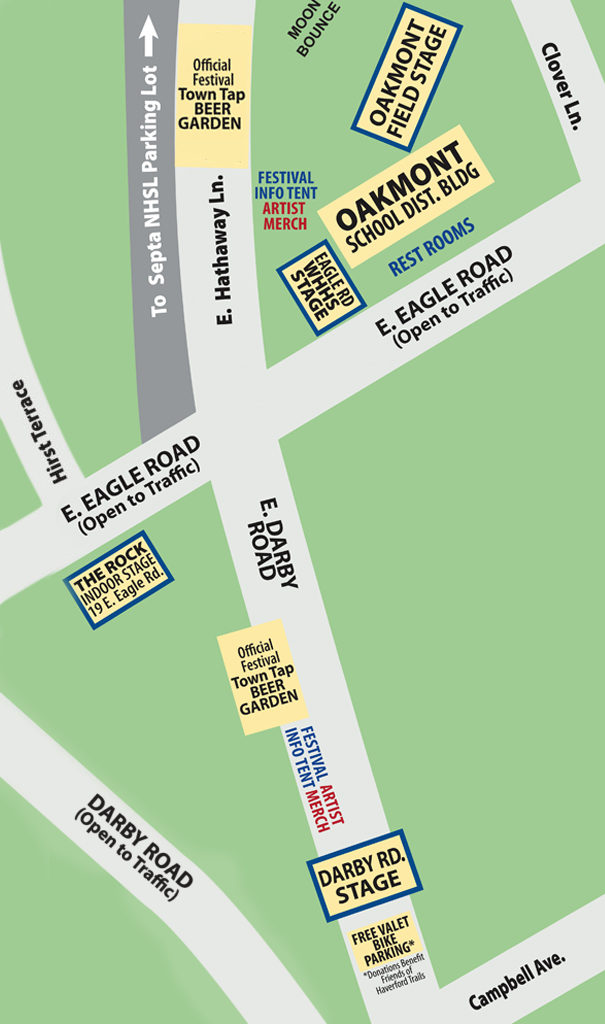 The Haverford Music Festival (HMF) is a showcase of music of all genres featuring talented artists, musicians and performers from Haverford Township and the surrounding area. The festival is a rain or shine event. There are four stages operating continuously. The event draws about 10,000 people to the center of Havertown for a day of music and fun. HMF has served as the primary fundraiser for the Haverford Township Civic Council, which provides funding for projects that enhance the quality of life in Haverford Township.
New this year:
Both beer gardens (Official Beer Garden at the Oakmont Stage and Official Beer Garden at the Darby Stage) are sponsored by Town Tap.
Beer tickets must be bought at the two Festival Info tents, located near the beer gardens. Legal ID is required to be served in the beer gardens.
Net proceeds benefit the Haverford Township Education, Arts & Music Society (HTEAMS).
Listen to music in the intimate café-style (& air conditioned!) indoor stage of The Rock (19 E. Eagle Rd). New Avenue Foundation will be selling their fresh roasted coffee by the cup and pound at The Rock, along with fresh vegan baked goods from Kia's Cakes, and fresh artisanal baked goods from the Media Bean Company. All proceeds will support The New Avenue Café at the
Kelly Center, where they will be employing people with disabilities.
Get a taste of our great musicians by listening to our Spotify Playlist!
Food vendors offer a variety of culinary delights and local businesses showcase their goods and services. Please patronize our vendors and businesses that support the Haverford Music Festival!
The Event is Rain or Shine.
Admission is free. A $2 donation per person is appreciated; it benefits community projects through Haverford Township.
You may bring lawn chairs and blankets.
You may NOT bring alcoholic beverages.
Legal ID is required to be served in the beer gardens.
Where is it?
The Haverford Music Festival is held outside on a closed section of Darby Road and on the grounds of The Oakmont School / School District of Haverford Township Administration building (50 East Eagle Road, Havertown, PA 19083) and indoors at The Rock (19 E. Eagle Rd.)
When is it?
Saturday September 11, 2021 Noon to 9:30 pm Rain or Shine.
Oakmont Field Stage – Noon to 9:30 pm
Darby Road Stage – Noon to 7:00 pm
Eagle Road Stage – Noon to 6:00 pm
The Rock Stage ( 19 E. Eagle Rd. )– Noon to 6:00 pm
What are the rules of the event?
The Haverford Music Festival is family friendly. Strollers are welcome in all areas except the beer gardens. All alcohol sales and consumption is restricted to the designated beer gardens. Open containers of alcohol are not permitted outside the beer gardens, on the street or fields. Attendees are not permitted to carry in alcoholic beverages, glass containers, weapons, explosives or fireworks. Bags, backpacks and coolers will be inspected at entry points.
Please leave your furry friends at home! No dogs or other pets permitted.
Due to school regulations, there is NO SMOKING and no dogs or other pets permitted on school property, including the Oakmont Field Stage and WHHS Eagle Rd Stage areas.
Where can I park?
Public Parking Lots:
The most Free parking is in Septa's lot at Ardmore Junction Station – NHSL, located at the end of Hathaway Lane & Haverford Rd.
Note that E. Hathaway Lane is partially blocked off to vehicle traffic during the festival, However you can still walk up it, after you park your car, to reach the festival.
There are 2 metered parking lots close to the festival; One on W. Darby Rd, just above the intersection of Eagle Rd.
And one located on W. Benedict Rd just west of the intersection of Darby Rd.
Parking in the lots in Havertown are limited. Observe proper street parking etiquette. Do not block driveways. Your car may be ticketed and/or towed. Please consider walking, bicycling or taking mass Transit.
Who benefits from the event?
The Haverford Music Festival is a fundraiser for the 501c3 non-profit Haverford Township Civic Council. Net proceeds from sponsorships, vendors and donations benefit non-profit member groups in Haverford Township such as the Haverford Township Free Library, MusicWorks, Tree Tenders, the Adult School, Haverford Partnership for Economic Development, The Grange Estate, The Havertown Rotary and others.
How can I help?
We need volunteers to make this event a reality. Please consider a volunteer position for a couple of hours to help in areas such as vendor or stage assistance, grounds crew, and set-up or take-down. Go to the Volunteer page to review positions available and sign up.
Applying to perform at the festival:
Applications for the Haverford Music Festival are closed until early 2021. When open, applications will be taken here.
NOTE: Performer applicants are volunteering to perform for no fee and no expense reimbursement.
We want to extend a special shout-out to all the performers that provided us with such a wide variety of excellent music and entertainment in the past. To give new acts the chance to play, performers cannot appear in consecutive years. Artists who appeared at the 2019 Haverford Music Festival are ineligible to apply for 2020.
Save
Save
Save
Save
Save
Save
Save
Save
Save
Save
Save
Save
Save
Save
SaveSave
Save
Save
Save
Save